How this "Power 6" formula is disrupting the supplement industry
There's a glaring problem in the immunity supplement industry.
For decades, big vitamin companies have been pushing single-ingredient supplements as a way to boost your immune system.
They gladly sell you a bottle of Vitamin C, a bottle of Zinc, another bottle of this or that… The reason why is no surprise — all those bottles add up to $Billions per year in sales.
What they don't tell you is that many of these vitamins are sold in doses so high that your body is unable to retain the nutrient value. Your body just can't use them and those pricey supplements — and your money — just end up flushed down the drain.
Dr. Shah knew there had to be a better way.
Double board certified Harvard medical graduate Dr. Amy Shah saw the problems in the supplement industry and set to work with a team of doctors, scientists and nutritionists to invent a solution.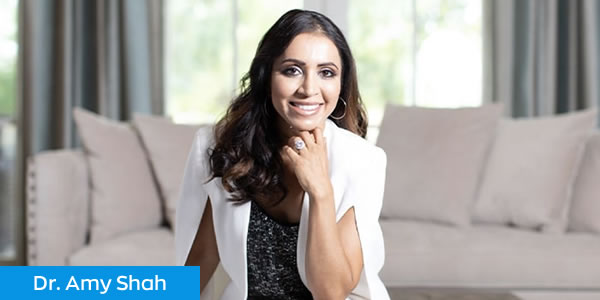 Together, her team came up with Immuneti — the world's only 6-in-1 immunity support formula and it's revolutionizing the supplement industry.
Immuneti combines the powers of Vitamin C, Vitamin D3, Zinc, Garlic Bulb, Elderberry, and Echinacea into one powerful immune fighting supplement, that users can take daily to help fight against the cold and flu, while also boosting energy levels and contributing to a healthy immune system, heart health, and respiratory health.
The "Power 6" formula: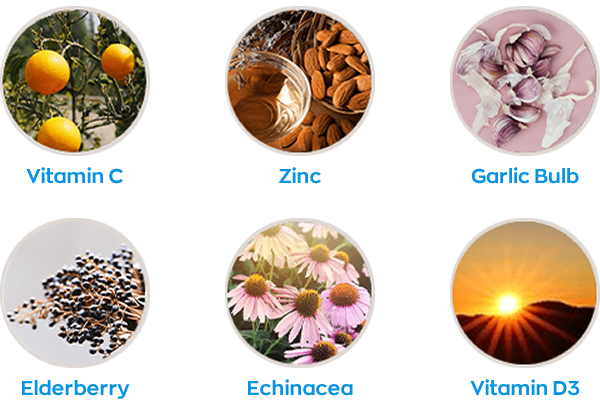 Vitamin C
Most people know that Vitamin C helps when you're sick, but you may not know that studies have shown it to reduce cold and flu duration with a dose of at least 200mg1. Immuneti contains 330mg.
As a powerful antioxidant, Vitamin C neutralizes the free radicals that cause oxidative stress to skin and lead to premature skin aging2. It is also essential to the production of collagen in skin cells, helping to support skin structure and overall skin health.
Zinc
Zinc is necessary for the activity of over 300 enzymes that aid in metabolism, digestion, and nerve function3. In addition, it's critical for the development and function of immune cells. This mineral is also fundamental to skin health, DNA synthesis and protein production.
Garlic Bulb
We all know garlic is great in pasta sauce but did you know the garlic bulb actually has some incredible medical benefits. The combined effects reduce cholesterol and blood pressure4, as well as offering antioxidant properties that protect against cell damage and aging.
Elderberry
Elderberry is a berry grown on the Sambucus tree. It originated in Europe but is now grown globally.
Its nutrient power comes from the berry extract. Scientific studies have shown that Elderberry extracts may have a positive effect on supporting the immune system5. Their power — especially when paired with Vitamin C — is clinically approved to reduce the cold & flu duration in adults by 16%!
Not only is Elderberry an immune fighter, it has also been shown to support healthy respiratory health.6
Echinacea
Echinacea is a plant in the daisy family and a common ingredient in cold remedies. The supplement boosts the immune system and can reduce symptoms of infections and other illnesses7, including the common cold.
Vitamin D3
Vitamin D3 is a fat-soluble vitamin that helps your body absorb calcium and phosphorus. Having the right amount of vitamin D, calcium, and phosphorus is important for building and keeping strong bones. Deficiency in vitamin D is associated with increased autoimmunity (not good) as well as an increased susceptibility to infection.
Black Pepper (Piper Nigrum)
Bonus Ingredient: This common household spice when paired with the 6 other ingredients provides an additional immunity punch. Black pepper possesses antibacterial, antioxidant, immune-boosting, and fever-reducing properties.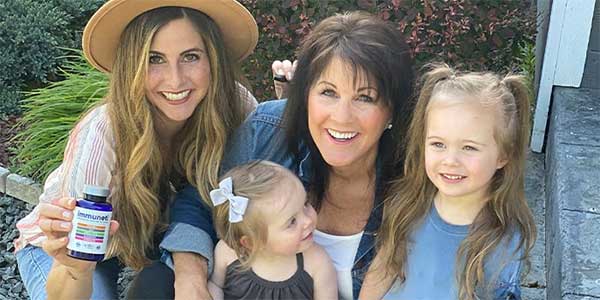 How much does it cost?
If you're like me, you're always looking for a catch: "That all sounds great… but how much does it cost?"
I've gotten used to buying vitamins and supplements separately, so given all the combined benefits of Immuneti I was expecting a fat price tag. I was actually blown away by how affordable it is.
Here's a quick price comparison: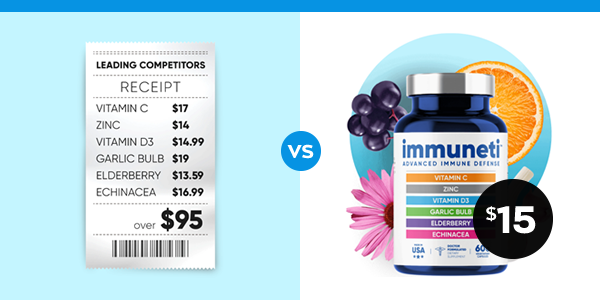 On a recent trip to the grocery store, I added it up and found you can quickly spend over $95 buying all six supplements individually. Ouch! I don't know about you, but $95 is a bit painful for my pocketbook.
Good health should be affordable for everyone, so the team at Immuneti slashed their margins to keep prices as low as possible. In an industry prone to putting profits before people, I find that really refreshing.
UPDATE: Right now you can Get 50% OFF and free shipping when you buy a multi-pack!
Also, for every order placed, Immuneti donates a 6-month supply of essential vitamins to a child in need through their partnership with Vitamin Angels. How awesome is that?
The bottom line: 
Immuneti combines 6 powerful immune-boosting ingredients to help keep you healthy, at a price that's really affordable for daily use.
Immuneti's advanced formula is designed to support your:
Immune system
Cold & flu recovery
Respiratory health
Energy levels
Heart health
Hair, skin & nails
Weight management