Grow your own herbs, no green thumb needed!
Have you ever tried to grow your own herb garden, but failed?
Or worse, maybe you haven't even tried… because you think growing an herb garden yourself is too hard.
Maybe you think it takes up too much space… or perhaps you're just busy, and you think it requires too much time and effort… or you simply think it isn't worth the cost.
Thanks to Cam MacKugler's clever "Shark Tank" invention, growing your own fresh organic herbs is ridiculously easy.
What is SeedSheet?
Tired of putting flavorless, pesticide-filled, genetically-modified (and expensive) store-bought herbs in his favorite recipes, Cam wanted to try growing his own at home.
Unfortunately, his first attempts were a disaster. Either nothing grew… or whatever DID grow wasn't fit to eat.
He was determined to come up with an easier way to grow fresh herbs at home. In a "EUREKA!" moment of inspiration, SeedSheet was born.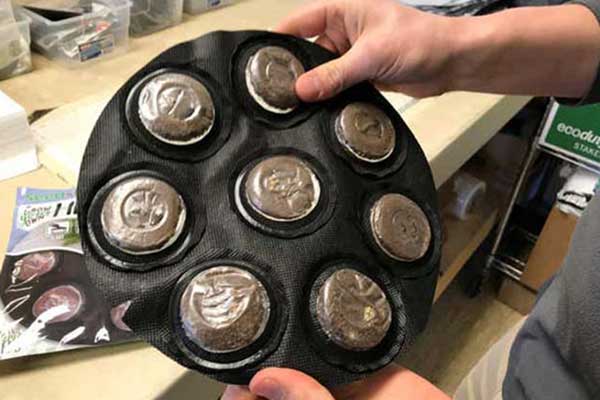 SeedSheet is a compact growing system with built-in seed pods that contain organic, non-GMO seeds in dissolvable pouches, embedded in weed-blocking fabric.
It's basically "a thriving, no-fail herb garden in a box." In fact, each SeedSheet can grow $92 worth of produce.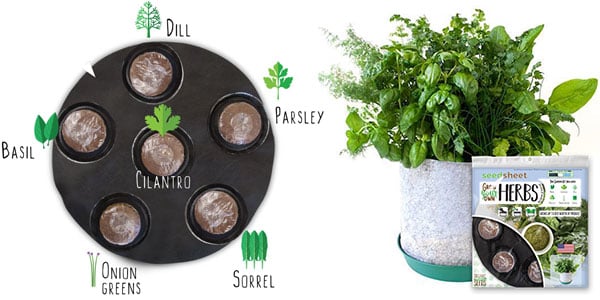 His invention caught the attention of Shark Tank producers and landed him a spot on the show where he pitched SeedSheet and ignited a bidding war between Mark Cuban and Lori Greinger.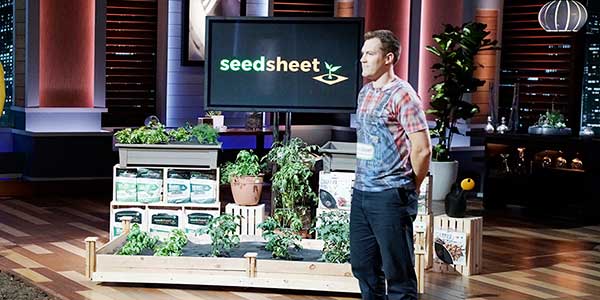 Since inking a deal with Lori from Shark Tank, SeedSheet has helped over 150,000 people grow their own herb gardens at home.
SeedSheet has proven that growing an herb garden isn't difficult when you have the right materials and the right knowledge.
How does it work?
Each SeedSheet herb garden kit comes with a fabric gardening container, base, organic seed pods, and iPhone/Android app. (Soil is not included since it's very heavy and expensive to ship. It's way cheaper to to pick some up at a local store.)
Fill the SeedSheet container with soil
The kit comes with a cool fabric pot with convenient handles. Fill the pot with soil, leaving a few inches of space at the top.
Place the SeedSheet pods
Lay the seed pod sheet on top of the soil in the container (there's no need to bury the sheet). The SeedSheet also serves as a built-in weed barrier.
Water the pods
The kit comes with a watering spray nozzle that fits on any standard water bottle (a great way to reuse and recycle!) The SeedSheet app will send you messages when your herb garden needs water — and watering is really all you need to do for it to thrive.
Enjoy your fresh herbs!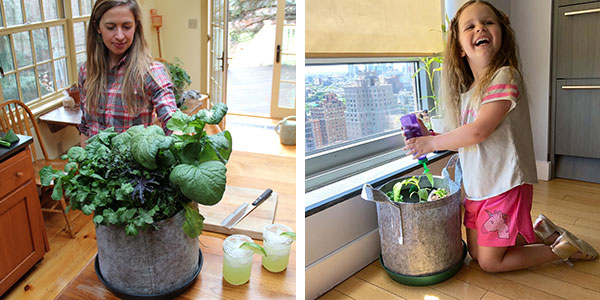 SeedSheet is designed to be so easy you cannot fail and successful gardening is fun for all ages.
What's the catch?
If you're an experienced gardener and enjoy the intricacies of growing from your own seeds, SeedSheet may be too simple and "hands off" for you. SeedSheet is for people who want an easy way to grow a thriving herb garden indoors or outdoors without having to fuss over details. Are there cheaper ways to grow a garden? For sure… Personally, I love simplicity and I also love supporting inventors and innovators in the marketplace.
It's time to get growing!
With over 150,000 people happily growing SeedSheet gardens, it's proof that anyone can do it. But be warned! Once you switch to cooking with freshly-grown herbs from your own garden, there's no going back 🙂
Plus, Cam is so confident that SeedSheet will work for you that he's offering a 30 day money-back guarantee. If you don't love your SeedSheet garden, no sweat! A cheerful refund takes away all risk. You have nothing to lose.
Here's to your gardening success!