Powerful 7-in-1 multi tool keeps drivers safe
There are over 5.4 million car crashes every year in the USA.¹ While we'd all like to think that we or our loved ones will never experience a serious car accident, it pays to be prepared.
In a crash, seatbelts can jam, doors can get stuck, and some windows won't budge…

What would you do?
Car safety experts have argued for years that drivers should carry window smashers and seatbelt cutters that are easily accessible in a car wreck.
The problem is, even if you are one of the few drivers that carry these safety devices, you probably have yours in your glovebox (or worse, your trunk) — dangerously far out of reach during in an accident.
Safety devices are useless if you can't reach them in an emergency.
Fortunately, a new revolutionary device just hit the market that solves this problem.
REACT: The future of car safety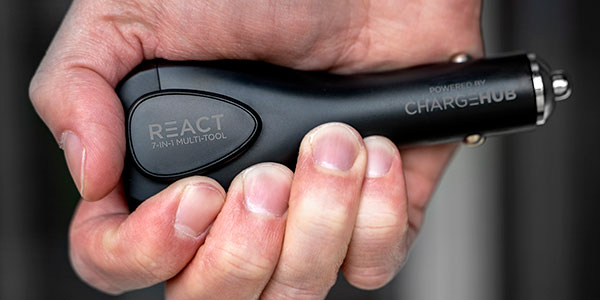 REACT is a 7-in-1 car charger that could save your life. It's packed with 7 powerful life-saving features designed to keep you and your family safe, whether you're stranded on the side of the road at night, trapped inside a burning or sinking vehicle, or experiencing any other emergency.
Even better, REACT plugs right into your car's 12v power port in your dashboard or center console (some call it a cigarette lighter). This allows it to stay in place so it's easy to grab when you need it most.
Many of us charge our phones while driving, so having a multi-purpose device like this is a brilliant idea.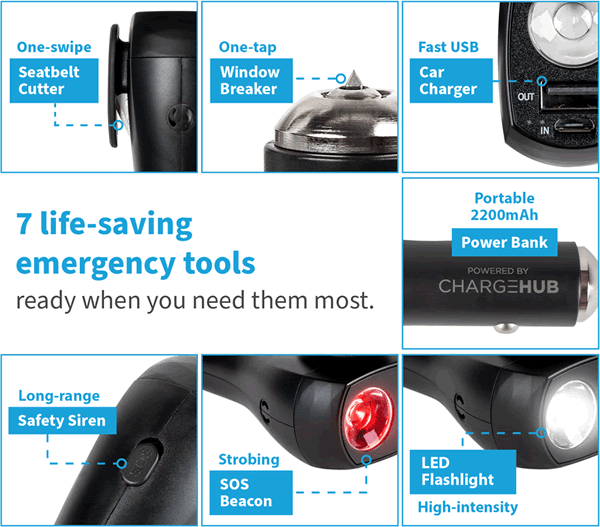 Here's a closer look at each feature…
Escape tools: seatbelt cutter & window breaker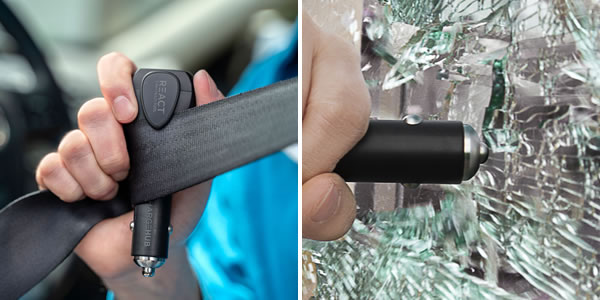 These must-have escape tools will allow you to quickly free yourself and others from vehicles. This is especially helpful if you get stuck in your car while it's sinking, on fire, or upside down.​
The Seatbelt Cutter is sharp enough to easily slice through seat belts, yet designed to be safe enough to avoid accidentally cutting anyone. The Window Breaker's solid steel tip cleanly breaks almost any car window with one strike.
Most importantly, you don't have to be strong or experienced with this tool — both features are easy to use and are designed to work on the first try.
Rescue tools: SOS light & safety siren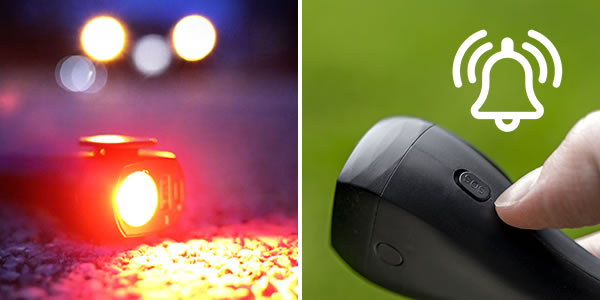 There's no convenient time for your car to break down, but being stranded at night on the shoulder of the highway is very dangerous.
That's where REACT's SOS beacon comes in handy. It's a powerful flashing red strobe light that can be seen for hundreds of yards and is critical to help prevent cars from crashing into you at night when you're changing a flat or waiting for a tow truck to arrive.
Another must-have feature is the long-range Safety Siren. It's an alarm you can use to ward off unwanted guests or attract attention if you need help — it's surprisingly loud for its size.
Utility tools: chargers & flashlight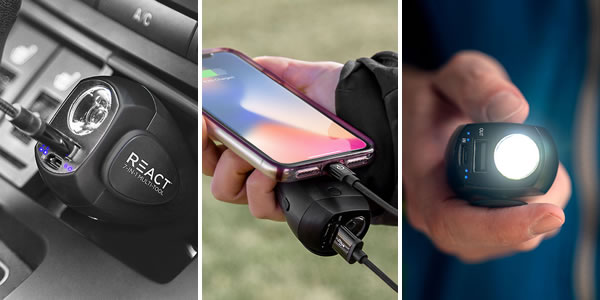 React is made by ChargeHub, a leader in portable charging technology, which means it's a high-quality product that's built to last.
Knowing their reputation, you can be confident the 2200 mAh power bank, the lightning fast car charger, and the ultra-bright LED flashlight won't let you down.
REACT's lightning-fast USB Car Charger uses ChargeHub's patented SmartSpeed Technology to super charge your phone in minutes. It's hands down the fastest charger I've ever owned.
Unplug REACT from your dash and it becomes a portable power bank. It's a real life-saver if you're stranded and realize your phone is dead — plus it's great for on-the-go charging. The 2200mAh internal battery stores enough juice to charge your phone up to 100%.
The internal battery also powers the built-in high-intensity LED flashlight, and lasts up to 4 hours on one charge. I use it all the time for finding things under my seats and searching the trunk, plus it's super handy for any night-time roadside issues like changing a flat tire or looking under the hood.
What's the catch?
While REACT is pretty awesome, at $49 it's a bit of an investment. That said, when I shopped around I found that you can easily spend $30+ on a portable power bank by itself (without SmartSpeed technology)… and that's not counting the other 6 features. Buying separate safety tools adds up pretty quick.
For my peace of mind and the safety of my family, I feel like it's 100% worth every penny. (I bet you would probably agree.)
UPDATE: Right now you can Get 1 FREE when you buy 2!
The bottom line: 
REACT guarantees you'll have life-saving tools within arms reach when you need them the most.
It's one of those devices I never realized how much I needed until I found myself using it every day. Not only does it give me peace of mind knowing that my family and I are prepared for emergencies, but it has handy features I use all the time.
As you can probably tell, I'm a big fan of having this tool in every vehicle and I've already bought a bunch for family and friends. I highly recommend you check out REACT.