Ah, the cool side of your pillow, there's nothing quite like it. The problem is, you flip your pillow again and again through the night in endless pursuit of that blissful sensation on your cheek.
Meanwhile, all that friction from your pillow is wreaking havoc on your hair and skin — and messing with your sleep.
If you've been following the latest beauty trends, you may have heard the industry buzzing about silk and the Blissy pillowcase.
But first, the bad news about the fabric most people sleep on…
What's wrong with cotton?
Pillowcases made from cotton and synthetic fabrics absorb moisture and natural oils from your hair. This causes your hair to dry out, leaving it more vulnerable to damage.
Over time as moisture and oil builds up in the fabric, it becomes a filthy breeding ground for dust mites and acne-causing bacteria.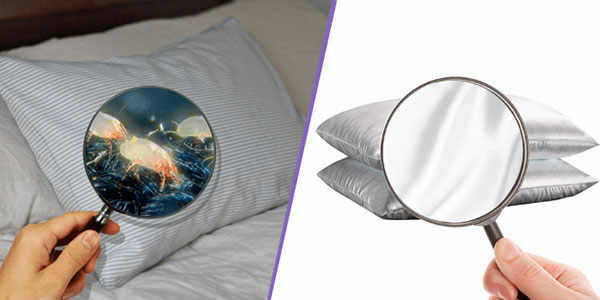 Every time you go to bed, all of that built-up dirt and grease gets all over your face and hair. You'll notice that you have to wash your hair much more often than you'd like — and you get acne breakouts that seem to come out of nowhere.
Your expensive nighttime skin care regimen goes right out out the window the minute your head hits that dirty, greasy pillow.
What makes Blissy silk better?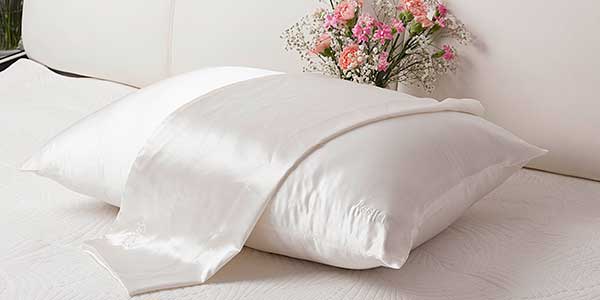 Beauty experts, hair stylists, dermatologists and ENT/allergists all swear by the benefits of sleeping on Blissy silk. Let's break it down…
It's better for your sleep
Because Blissy is so soft and smooth, it doesn't bunch up and crease your face. Blissy's 22-Momme Mulberry silk naturally refracts infrared heat, which means your pillow stays cooler through the night.
This is perfect if you tend to get hot or toss and turn when you sleep. With a Blissy, you won't wake up throughout the night to keep flipping your pillow over to the cool side.
It's healthier for your hair
Mulberry silk doesn't absorb moisture. The natural oils and moisture found in your hair, stay in your hair. They won't absorb into the pillowcase, and your hair won't be stripped of its natural moisture while you sleep. Your hair will be cleaner, your pillow will be cleaner, and you won't have to wash your hair nearly as often. The result is shinier hair, less damage and fewer split ends.
It's better for your skin
Your face is in direct contact with your pillowcase all night while you sleep. Cotton and other fabrics absorb moisture and natural oils from your skin. (Along with any face creams or lotions you put on your face before bed.)
The build-up of oils, sweat and lotions quickly becomes a perfect breeding ground for harmful bacteria. The result? Clogged pores, acne and unhappy skin.
Blissy silk won't absorb your skin's natural oils or any lotions that you put on, so your face stays hydrated and healthy — no more "sleep-wrinkles."
It's naturally hypoallergenic
The fiber strands of the 22-Momme Mulberry silk used in the Blissy pillowcase are tightly woven and very smooth. Fewer microscopic nooks and crannies in the fabric means there's no home for dust mites and other allergens. How does less stuffiness, sneezing, watery eyes and runny noses sound?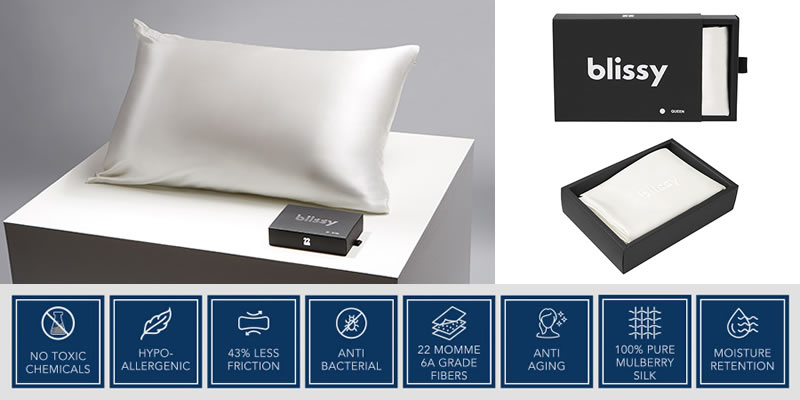 What's the catch?
Blissy isn't a cheap pillowcase. It's made from the highest quality 6A long-fiber, 22-Momme 100% Mulberry silk, which only comes from a few sources in limited supply. It's famous for its softness, strength and durability. You can find cheap imitations made from low-grade and faux silk, but like everything else, you get what you pay for. (But don't get bamboozled either — I've seen inferior silk pillowcases going for $328 at high end shops. That's crazy!)
To me, even just 30 days of better sleep, skin and hair are worth 10X the $79 investment. Blissy is made to last for years so it's a no-brainer.
Final thoughts
With thousands of verified 5-star reviews, everyone is raving about Blissy. I absolutely love mine! So much that I've been buying them as gifts for my friends and they all love them.
I think natural remedies for your hair and body are always best and Blissy cuts down on my daily routine. I would recommend this pillow to everyone with any type of hair or skin type. It's completely safe to use and feels great in the morning. Learn More